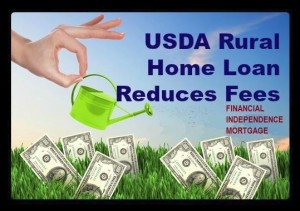 Upfront Guarantee Fee and Monthly/Annual Fee Decrease
USDA has announced a reduction in the upfront guarantee fee and monthly/annual fee for fiscal year (FY) 2017 effective with Conditional Commitments issued on or after October 1, 2016 through September 30, 2017. The current and new reduced fees are as follows:
USDA Rural Development Reducing Guarantee and Annual Fees in October:
Effective October 1, 2016 (the start of fiscal year 2017) program fees for USDA Rural Development's guaranteed home loan program will be significantly reduced.
The upfront guarantee fee will change from 2.75% to 1.0% of the loan amount.
The annual fee will change from 0.50% to 0.35% of the average scheduled unpaid principal balance for the life of the loan.

The new fee structure will save homebuyers thousands of dollars up front and reduce monthly payments significantly.
For More Information about the USDA program call:
Dean Henderson, CRMS
President
Financial Independence Mortgage
(661) 726-9000