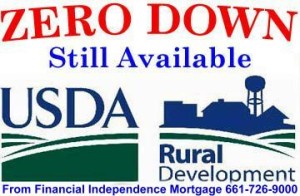 The USDA 100% Financing program had been slated to implement the 2010 census data modifying eligible rural areas for USDA Rural Housing Programs on October 1, 2013. However, with the "Continuing Appropriations Act, 2014" (H.R. 2775) signed into law by the President of the United States on October 16, 2013, eligible areas for USDA Rural Housing Programs remained unchanged and consistent with the 2000 Census through January 15, 2014.
On January 9, 2014, USDA sent out a memo stating "Eligible areas remain unchanged and continue in a "holding pattern" until either an appropriations bill or a continuing resolution is passed."
Then on January 24, 2014 USDA sent a memo stating, "Barring Congressional action, USDA will begin using 2010 Census data to determine eligible rural areas for Rural Development housing programs on October 1, 2014.
Once the new maps are implemented the main areas in the Antelope Valley that will be eliminated from eligibility will be Rosamond and Lake Los Angeles.
Financial Independence Mortgage has specialized in funding this program for the last several years and it has been a great option for home buyers in the following areas of the Antelope Valley: Rosamond, Mojave, Antelope Acres, Acton, Littlerock, Lake Los Angeles, Pearblossom, Juniper Hills, Llano, Elizabeth Lake, Lake Hughes, Leona Valley and Valyermo.
In addition to zero down payment, the cost of the monthly payment is less than an FHA loan.  Guidelines are similar to FHA which makes qualifying easy for first-time homebuyers.
Eligible rural areas are defined as open country or towns, or places with a population up to 20,000 in Non-Metropolitan Statistical Area (MSA) Counties and less than 10,000 populations in MSA Counties, which are not a part of or associated with an urban area.
For a Free-PreQualification and to check for USDA eligible properties please contact Dean Henderson at 661-726-9000.